A very special thanks to Cathy Husid for coordinating a brilliant trip to The Berkshires. We mainly stayed in the LENOX area but then ventured out to Pittsfield & Lee as well.
If you want to escape the city like me – Vist berkshires.org
For more information on Taste Berkshires, please visit tasteberkshires.org.
We love visting The Berkshires and every time we go we discover and discover. This time we stayed at Cornell Inn which is just a few blocks away from stores, restaurants, cafes and more. It is also a few minutes away from The Mount. We were greeted by Tim the owner who was so lovely and they had a pack n' play all set up in our room already upon arrival. This inn was definitely super comfortable travelling  with our little guy, Tatum. I also loved that there was a beautiful outdoor area complete with a Koi pond and waterfall so when Tatum was a bit fussy I took him outside to check out the food and enjoy the background noise of the little mini waterfall. There were beautiful flowers on the property. The room we stayed in had a cozy bed and lots of space to move around even with a playpen in the middle.  The beautiful, centuries-old Cornell Inn is located in the heart of the historic village of Lenox, just up the road from Tanglewood as well. The owners were both so welcoming.   The bed and breakfast is comprised of three period style buildings, situated on 4 exquisite acres of beautifully groomed gardens.  The inn is positioned at the base of well-known Kennedy Park, a wooded nature preserve with 180 acres of trails. They offer breakfast every morning from 8am – 10am. The menu is great and nourishing especially when you have a day of sightseeing planned.
Why do I love Cornell Inn so much ? It is a great place to stay for a getaway to The Berkshires but it is also a great place to go with family members or even for a mini event. It is a perfect place for an informal wedding weekend as well. There are beautiful places on the property for photography and a ton of conveniences. Great seating inside the property, a fun bar area,  but also a ton of places to entertain outside as well.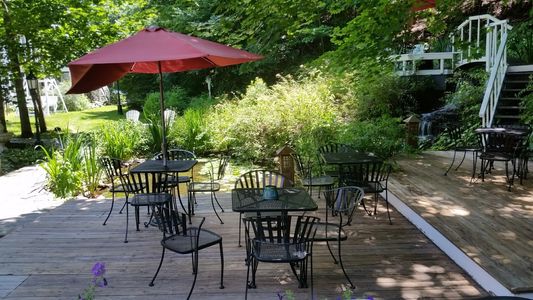 This is the room we stayed in and there is a whole other side with a tv area too that gives you the opportunity to feel like you have a nice size sitting area to read or watch television.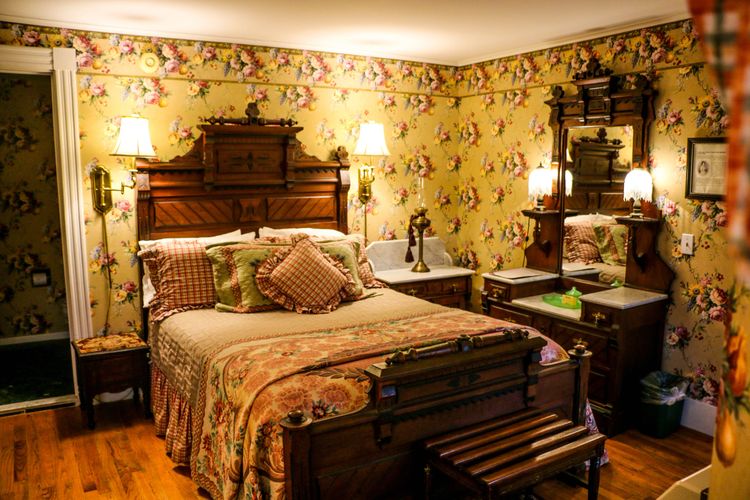 We arrived late on Saturday night so we drove around a bit then headed to dinner at Chez Nous in Lee. The food was delicious but I loved meeting Rachel Portnoy the pastry chef and hear her career story summarized briefly– it was so inspirational and such an interesting background. The chefs first met in 1997 while Franck was working in his first post as Executive Chef at The Point, in Saranac Lake, NY.  I loved hearing about her study and her work to become I have to say an extremely memorable and special pastry chef. I loved the desserts that we had with our beautiful meal. I have a huge sweet tooth and to me these were so special. I loved hearing a bit about Franck Tessier the chef as well.  I enjoyed his menu he created and loved the Pinot Noir they chose on the menu. I loved hearing about their training program as well for interns. Their menu is a true mix from Organic Mixed Green & Asparagus Salad   to Crispy Cod & Crab Accras  to Grilled Certified Black Angus Filet Mignon  with  Roasted Sweet Potato, Spring Vegetables, Creamy Peppercorn Jus to Pan-Seared MA Scallops   and so much more from steak to fish – you have choices.
I can still taste this dessert – so decadent and so rich in flavors : Blondie Sundae with Sea Salted Caramel   – they also have – Sweet Bites:  Dessert Tasting Plate, $11.50  – can you believe – what an opportunity – Rachel's choices: chocolate-peanut butter torte, passionfruit macaron, fudge brownie, orange-cornmeal Madeleine, raspberry-key lime frozen mousse
This is a not to be missed restaurant if visiting the Berkshires.
The next day we ventured to see the baby animals and more at :                                            Hancock Shaker Village
It was the first time for Tatum Michael to see animals like this other then his two little doggies so it was a special moment. We also got to check out the beautiful herb garden & incredible artwork.
There is an incredible exhibition currently called : BORROWED LIGHT that I was extremely immersed in …. Artist Barbara Ernst Prey has an affinity for light — specifically, capturing the fleeting luminosity within built and natural environments. Borrowed Light presents a new body of watercolors depicting scenes from the Village. Taking its title from the Shaker principle of "borrowed light," or the incorporation of windows and skylights into interior walls as a way to refract light from the outside in, Prey's exhibition is inspired by visits across three seasons where she immersed herself in the buildings, historic artifacts, and landscape of this site. Her voice brings new consideration to the visual and haptic experience of this site, historically and today.
At the farm I loved hearing about the sustainability missions – The Shakers began farming the land in 1783. They continue the Shaker tradition by practicing a distinctive kind of farming, based on Shaker farming principles and regenerative agriculture. We believe that ecological health, thriving crops, and human wellness are inseparable. Through the use of Shaker farming methods, and by partnering with nature, we establish healthy, productive, and beautiful ecosystems on our farm.  Three core beliefs form the foundation of the five acres we farm and our land management practices: care of the soil, protection of the ecosystem, and responsibility to our community.Many farms strive to be sustainable, creating and maintaining healthy soil that will produce healthy crops that have optimum vigor and are less susceptible to pests. They practice regenerative agriculture, an approach to food and farming systems that doesn't use chemical pesticides or artificial fertilizers, and aims to regenerate topsoil. These practices increase biodiversity and resilience to climate change over time, improve water cycles, and strengthen the health and vitality of crops. Biological production grows more complex over time, increasing yields; all also contribute to carbon fixation. Their farm and gardens are largely a closed system with minimal inputs. In other words, utilize compost, raise  livestock, and use own organic fertilizer.  They even utilize their own water – the water comes from the Shaker reservoir on our property, created in the early 1800s by damming and diverting Shaker Brook. By 1817, the Shakers laid an underground aqueduct which transported water from the reservoir, ultimately turning an overshot wheel 20 feet in diameter, powering equipment in the machine shop, serving the laundry, and providing water for the farm, gardens, and livestock. The wheel was replaced by a cast iron water turbine in the 1859, and still operates today. While on the topic of water, they make use of mulch and cover cropping, which reduces water consumption. They estimate these practices reduce watering needs by 45-65% once crops are fully established.
I also was able to check out SEEDS which had so many amazing choices for lunch.
Open every day, for coffee, snacks, lunch, and sometimes dinner. Seeds Market Cafe highlights the spirit and nature of the Shaker's authentic living heritage. Located steps from our heirloom vegetable and herb gardens, our fresh-picked menu items celebrate Shaker-inspired, neighborhood-sourced food, as well as special event dinners and catering for all occasions and gatherings conscientiously prepared by chef Brian Alberg of The Red Lion Inn and Main Street Hospitality.
I love exploring history especially strong female stories and hearing the background. I loved learning more about Edith Wharton and visiting her home and grounds. This is an incredible place for a wedding  / corporate event.  It is beautiful to learn the history of this inspiring woman and then to sit on the Terrace after visiting the gardens and enjoy a lemonade. They also have quite the event calendar.
Prior to going into the house and in the back area grounds we did the loop around the front of the property and enjoyed so many incredible sculptures.  Learn more about the Sculptures here : https://www.sculpturenow.org/
More on THE MOUNT here : https://www.edithwharton.org/visit/plan-your-visit/
Edith Wharton (1862-1937) was born into a tightly controlled society at a time when women were discouraged from achieving anything beyond a proper marriage. Wharton broke through these strictures to become one of America's greatest writers. Author of The Age of Innocence, Ethan Frome, and The House of Mirth, she wrote over 40 books in 40 years, including authoritative works on architecture, gardens, interior design, and travel. She was the first woman awarded the Pulitzer Prize for Fiction, an honorary Doctorate of Letters from Yale University, and a full membership in the American Academy of Arts and Letters. https://www.edithwharton.org/discover/edith-wharton/
In addition to being a house with a story to tell, they are also a cultural center, partnering with over 40 local organizations to present lectures, dramatic readings, theater, music, storytelling, workshops, outdoor sculpture, films, and literary panels.
In 1902 Edith and Teddy Wharton built The Mount on 113 acres purchased from Georgiana Sargent. The entire estate was designed as a complete work of art, informed by French, Italian and English traditions, yet adapted for the American landscape.
The Whartons sold the property in 1911. Private families owned the house until 1942 when it became part of Foxhollow School for Girls. In 1976, the school went out of business and for the next two decades, the property, now owned by Edith Wharton Restoration, served as the home of Shakespeare & Company. Restoration of the estate began in 1997.
We also visited https://www.berkshirebotanical.org/ which we LOVED so very much – it is a beautiful botanical garden to walk and enjoy.

That night we had a really fun dinner at Café Lucia and had an incredible pasta bolognese. I loved the fun patio vibe but also thought the inside farmhouse vibe was really special. I was so enthralled by the photography inside as well. Definitely another restaurant to check out – this is right down the road from The Cornell Inn so that inn is super convenient to so many cultural sites & restaurants.