For over 130 years, the Wolverine brand has been the sturdy sole that helped shape a nation.
As I was doing my story for this blog post I realized that a KRAUSE created WOLVERINE.  My last name is now Krause through my husband so I was extremely interested in finding out more about the rich history of this brand.
G.A. Krause believed in the possibility of opportunity. He dreamed of owning a shoe company and tannery that employed his values of quality craftsmanship and incessant innovation. In 1883, he founded a small company with a handful of employees.
By 1901, Krause organized the Rogue River Electric Light and Power Company to bring power to Rockford, Michigan, allowing him and his sons to build and operate a shoe factory. By 1903, they were making 300 pairs of shoes a day. Krause was a true revolutionary, later selling shares of the company to its own employees, becoming one of the nation's first profit sharing plans.
G. A. Krause and Fredrick Hirth founded the company in 1883.[2] Fredrick Hirth and Mr. Krause bought a small leather shop in Grand Rapids, Michigan starting with a capital investment of $2,900. The story continues through the years as Wolverine becomes Wolverine Worldwide  but that workmanship and hard work to create an every evolving company continues on – it is so interesting how Krause built this amazing company.
Today Wolverine honors its heritage with a collection of boots and shoes inspired by archival patterns that are crafted with great attention to detail using the same construction methods as the original. The Wolverine 1000 Mile Collection embodies the pillars of Wolverine's heritage — comfort, durability, function and style.
Wolverine continues to push further and develop new innovative technologies designed for comfort and protection. Creating improved form, more function, and the world's most comfortable boots.
Wolverine World Wide, Inc.
 or Wolverine Worldwide is an American footwear manufacturer based in 
Rockford, Michigan
, known for its own brand, Wolverine Boots and Shoes, as well as its subsidiaries such as 
Hush Puppies
 and 
Merrell
. The company also manufactures footwear for other companies, such as 
Caterpillar
 and 
Harley-Davidson
, as well as shoes and boots for the military.
They price for the 1000 Mile average is about $365 on website which this is a boot you will have for a very long time.  If you look at reviews of this boot people love it.
Now you can even customize your Wolverine 1000 Mile boot – you can go on their website and for $400 you can pick colors and details – check it out.
Crafted with the same attention to detail found in the original boot first crafted in 1914, the Wolverine's 1000 Mile Boot is the cornerstone of the collection. Made in America with classic Goodyear welt construction, the 1000 Mile Boot has been meticulously designed to replicate the original's aesthetic and is hand crafted to last.
FEATURES
• Timeless pattern recreated from the first Wolverine 1000 Mile shoe introduced in 1914
• Upper made from premium leather from Horween Leather Company or suede from Charles F. Stead Suede ages beautifully and gains character with wear
• Handcrafted in Wolverine's factory in Big Rapids, Michigan, USA
• Unlined
• Classic leather outsole with a Vibram heel, Vibram tap, or full Vibram rubber lug
• Time-tested Goodyear™ Welt construction is durable, flexible and allows the boot to be resoled for years of wear
Details of the 1000 Mile Shoe available in both male and female
Metal eyelets and flat, waxed laces ensure a proper fit that stays tied.
Horween leathers and C.F. Stead suedes are best-in-class materials that get better with age.
Goodyear Welt construction provides unparalleled durability that can be resoled.
Cork midsole forms to your foot over time.
Stacked leather Vibram® heel completes a classic silhouette.
Also check their website there are some exclusives that are online.
I am in LOVE with this boot I need it :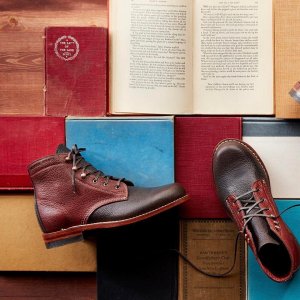 Also WOLVERINE CELEBRATES AND SUPPORTS VETERANS AND WILL DONATE 100 PERCENT FOR VETERANS DAY.  Wolverine will 
donate 100%
 of the limited edition boot sales from November 7-14 to an organization called Operation FINALLY HOME, a non-profit organization that builds mortgage free homes for veterans. The boot will be available exclusively on 
wolverine.com
 starting November 7. Wolverine will launch Troop ID by offering veterans a discount on all future wolverine.com purchases. 
Operation FINALLY HOME
 is a national nonprofit organization that was founded in 2005 with the goal of addressing one of the most pressing needs of returning troops: a home to call their own. Their mission is to provide custom-built, mortgage-free homes to wounded, ill and injured veterans, the widows of fallen and their families, creating a solid foundation for them to move forward in their lives. Operation FINALLY HOME partners with corporate sponsors, builder associations, builders, developers, individual contributors and volunteers in local communities across the United States to accomplish their mission. The 
Wolverine 1000 Mile Limited Edition Coyote Boot
 is made in the USA in homage to traditional military boot style and those who have served in them. Based on the Original 1000 Mile boot pattern from 1914, the limited edition boot is monochromatic from top to bottom, featuring a Vibram rubber outsole and Horween Natural Marine flesh-out leather, both in a custom coyote color.
http://www.wolverine.com/US/en/wolverine-1000-mile-limited-edition-coyote-boot/31223M.html
"Wolverine has been making comfortable and durable work boots for over 130 years," said Andrew Shripka, vice president of marketing for Wolverine. "Partnering with Operation FINALLY HOME is a way to show our support for veterans and our customers, builders, who generously offer their time and contacts to build custom homes for veterans. Through donations and discounts, we also hope to give a small token of thanks to veterans, active servicemen and women, and Operation FINALLY HOME for everything they do."
The pillars on which G.A. Krause founded the company more than 130 years ago still ring true today. Craftsmanship is at the heart of everything that Wolverine does.